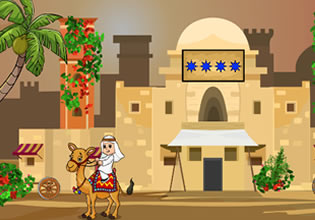 Handsome Turban Boy Escape
Ahmed had been sent by the sultan to find an important person in one of the small kingdoms in the desert, and that is no other than his son! The sultan only had bits of information pertaining to his son, and all said that he was captured by one of the kingdoms! But hard proof isn't present yet, so the sultan sent people to confirm this for he doesn't want to start something and break relations if he isn't sure about all the facts.
That is why Ahmed is off, his destination was in this small kingdom in the far corners of the desert. His task was to confirm if the sultan's son is in this place and if he finds him there, he is going to have to rescue him and bring him home, the sultan will decide then on what to do with this kingdom that captured his son. Escape players, Ahmed seems to be on the trail on something here, the sultan's son was last seen wearing a turban in this place! That is a lead indeed, will you help Ahmed here then so that this will eventually lead him to the boy?
Handsome Turban Boy Escape is the newest point-and-click rescue escape game created by Games 2 Jolly.
Other games by -
Walkthrough video for Handsome Turban Boy Escape