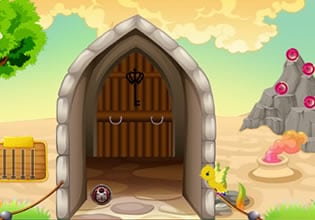 Lion King Escape (Games 2 Mad)
The land here is kind of like in that movie Narnia, this place is really similar to that. And that day even, as Francis who knows the place enters there once again which can only be done by going through a secret portal, he is going to rescue a lion that's trapped somewhere in a castle there! See, it's absolutely similar to Narnia, but Francis have been called here by the spirit of this place to help, he will definitely as an exchange for giving him a fun time there.
The lion he will be rescuing is not normal really, just like this place it has a special role there and one can bet it is also magical. Francis doesn't know if he'll be able to accomplish this, but he hopes so that he can for this place is counting on him, for if ever that lion gets in some deeper kind of trouble than it originally was, then this place might collapse. Escape players, will you help Francis here get this task done while his spirits are still up? Go ahead then and be ready, for challenges in this place can often be very difficult.
Lion King Escape is the newest point-and-click rescue escape game created by 8b Games and Games 2 Mad.
Other games by -
Walkthrough video for Lion King Escape (Games 2 Mad)