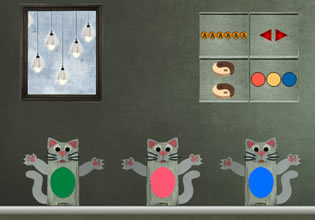 Kitty Escape (8b Games)
Kitty Escape is the newest point and click animal rescue escape game created by 8b Games for more fun adventures with us. Best of luck!
It was Jasmine's birthday the day prior, and because her best-friend Anne didn't come for she had some errands, she just bought her a present and it was quite a different one than the others. Anne's present was a little kitty and it was very playful bouncing around and dashing as soon it hit the floor. Anne wasn't going to be long that day and after an hour of talking, she left and allowed the kitty to bond with her new owner, but Jasmine realized though that her kitty was nowhere to be found and when she tried to look for it, she found-out that it was actually in-trouble!
Jasmine heard the kitty from inside a room which had a door that always jams and that's not all, for it's also really hard to open! Jasmine could not get to the kitty soon for the doors are indeed jammed, how did that little creature get inside there? Well it's very active so no wonder. Escape players, care to try the animal rescue here with Jasmine and see if you can all help a trapped kitty in the house? Have fun then, use your skills and logic on this one.