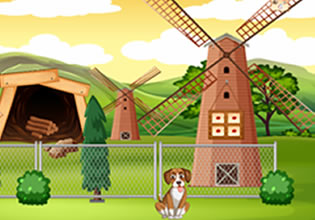 Help Cat Bro For Marriage Proposal
The two cats who are in-love here are currently together in a small room there in the barn, as the farmer of the place, Eliza who can talk to animals is absolutely excited for this, that's because one of the pair cats is going to propose for his love! So Eliza and the rest of her animals are watching what will happen next. Will she say yes? As Eliza observe though, she realized that the cat who is going to propose missed something, and that is the ring for he couldn't find it in his possession!
Eliza needed to act then for she is the only human here and she needs to be responsible for her animals. But finding that ring would require another person's help though so this can be dealt with quick. Escape players, will you be that help for Eliza then? For this farm here is vast and that ring could be absolutely anywhere.
Help Cat Bro For Marriage Proposal is a brand new point-and-click item retrieval game from Games 2 Escape.
Other games by -
Walkthrough video for Help Cat Bro For Marriage Proposal