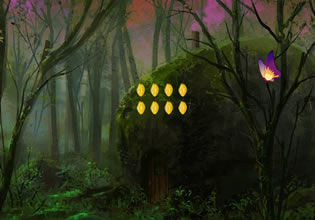 Dark Delusional Forest Escape
The dark forest is a land not-so holy for there are creatures that comes in and out of there and sometimes they are not too shy to be seen. That's why the people living around the place do not go in there for these said creatures are definitely not friendly and would really hurt people. That is exactly what's at risk for Danny today, for he accidentally entered the forest and now he is lost in there!
Surely Danny knows what a mistake he did here, and what's worst was no matter how he tried to get out of the place, he just couldn't and now he is starting to see things in the corner of his eyes and they are following him! Escape players, Danny needs to survive through this ordeal and hopefully nothing major will happen to him as he escapes, will you help him then so he can and soon?
Dark Delusional Forest Escape is another new point-and-click scary wilderness escape game made by Big Escape Games.
Other games by -
Walkthrough video for Dark Delusional Forest Escape