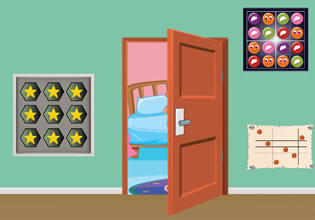 Joyful Bro And Sis Room Escape
Glenda is in-charge of her siblings that day for their parents left and she is the only grown-up in the house. Glenda just lets her two siblings play and her doing her tasks, but she keeps one eye on them just in-case if they try to do something that might harm there. But after an hour though, something happened and unfortunately Glenda was too late when she realized it!
Glenda's siblings have gotten trapped in their room for they couldn't open the door! Glenda tried the thing on her side as well but it wouldn't budge. This thing might be jammed and that's definitely not good, but she will get her siblings out no matter what for their safety is in her hands. Escape players, will you be able to help Glenda here though in freeing her young siblings from their room safely?
Joyful Bro And Sis Room Escape is a brand new point-and-click indoor rescue escape game released by Games 2 Escape.
Other games by -
Walkthrough video for Joyful Bro And Sis Room Escape