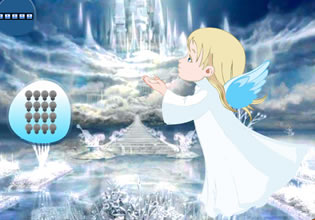 Heaven Grandpa Meet Escape
This young girl who is Priscilla had just been granted special access to a place people would desire to go when they pass-on, but the thing was Priscilla is still very much alive, she has a special gift though and the heavens have granted her something truly nice, and that is to finally say goodbye to her grandfather one last time before he finally goes. Priscilla is sensing a very calming feeling from the place, and this land here is kind of like it's floating on the clouds. Now her task begins there to meet her grandpa for the last time.
Priscilla must traverse this bright and ghostly place until she reaches a certain area, that is where her grandpa will be. There will be no danger here in this place, but there are obstacles to go through though. Escape players, normally Priscilla would take tasks like these on her own, but she is going to need some extra help there this time. So will you give her that until she reaches her grandpa?
Heaven Grandpa Meet Escape is the newest point-and-click heavenly place game created by WoW Escape.
Other games by -
Walkthrough video for Heaven Grandpa Meet Escape