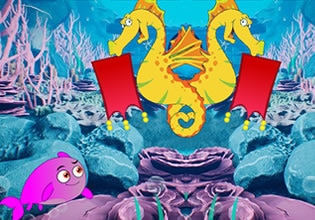 Meet With Memo Family
In this garden of beautiful corals here which are the home of the different colorful fishes and aquatic creatures, one family of the rare Memo fish is currently having some trouble and they really need help. This underwater shallow place here has a lot of blind spots as well as hiding places, that's why they are having a hard-time in searching this missing family member of theirs and one should know that Memo fishes are very familial fishes, and that's what's making them unique.
Well escape players, they need to find that missing member of theirs and they will not stop until they do, and what's bad about that too was that member might need some saving and it is only waiting for them. Will you be the help of the family here then so they can move on and go home to their side of the reef? Go ahead then, find clues here then which can help guide to their missing family member and rescue it if it is ever needed. Be careful too for there are still hidden dangers here in this reef.
Meet With Memo Family is the newest point-and-click underwater rescue escape game from WoW Escape.
Other games by -
Walkthrough video for Meet With Memo Family