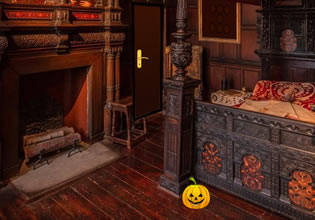 Haunted Pumpkin Room Escape
Clyde doesn't know how to address his haunted house anymore for he had tried everything to cure it. But that Halloween's day though he had an idea, maybe he'll increase human presence in the place? That might drive the unwanted residents in his house away. So he decorated the place and invited friends over for a Halloween party later that night, but as he was just fixing-up the place though a problem already sprung.
Clyde could no longer get out of his house for the doors were now mysteries locked! He couldn't open any of them and he thought, maybe this is the work of the unseen residents in the house. Well, Clyde is not going to be beaten by them, he'll have to get out of the place first however so that he can ensure that the doors won't act-up when the people comes. Escape players, would you like to help Clyde here on this situation so he can escape?
Haunted Pumpkin Room Escape is another new point-and-click indoor escape game made by Games 2 Rule.
Other games by -
Walkthrough video for Haunted Pumpkin Room Escape