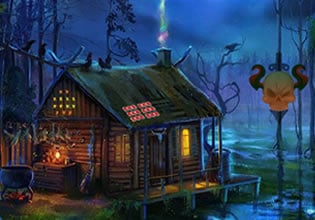 Halloween Village 14
Jack managed to receive this crimson stone after his task with the vampires, this crimson stone must be the key so he can go back home quicker for right-now thanks to the tasks given to him by everyone in one day, he had shoved himself deeper in some place he is not too familiar with, and right-now the worst thing is his master the witch is not even contacting him.
Jack needs to make use of this stone then however way it could be, hopefully the witch still has some concern for him and help him for this stone might be one of the things that she wants. She had been shoving Jack into these tasks and it's very unlikely that she doesn't want what he has for it's quite a nice stone. Okay then, guess Jack is going to use it to guide him here. Escape players, want to help in this escape by maybe making use of this stone?
Halloween Village 14 is a new outdoors spooky escape game developed by WoW Escape. This game is a continuation of the previous one as its sequel, and is a part of the first game as the start of the series.
Other games by -
Walkthrough video for Halloween Village 14