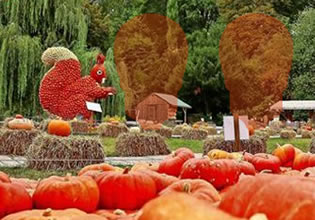 Halloween Pumpkin Garden Escape
The land is now celebrating Halloween, there are forests of pumpkins everywhere for this place here has a huge plantation and their surplus ends-up to them in Halloween after their big sell-off in the towns nearby. That day, Stella was in the pumpkin garden which was a new and accidental attraction for the place is actually the stockpile area of extra pumpkins, people got the idea of turning into an attraction and now people can go in and out of there. But it seems the place got the best of her that day.
Stella got lost in the pumpkins attraction! She doesn't know where to go now and the place is really playing with her, well at least that's what she thinks for she tried to get out of there but unfortunately, she just keeps getting lost. Escape players, would you like to help Stella here and escape the pumpkin garden?
Halloween Pumpkin Garden Escape is a new point-and-click outdoors escape game developed by Games 2 Rule.
Other games by -
Walkthrough video for Halloween Pumpkin Garden Escape