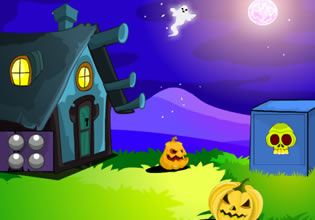 Halloween Pumpkin Forest Escape
The pumpkin forest is very active in Halloween's eve, that's why nobody recommends going in there when the said evening is commencing. But that simple warning is not enough to stop some people though, and those some are now even traversing the said place and it's currently the eve of Halloween!
One of those persons who didn't heed the warning and entered was Lucy, she is one adventurous gal and because things rarely go wrong for her, in her mind she thought everything is going to be fine as she roams around there. Well little did she know escape players, that this rare happening is going to happen to her now, and because she also accidentally broke-off from her friends, she is alone to solve the problem there! Lucky for her she won't totally be alone there, for she has you escape players. Will you be able to get her out of the forbidden area safely then?
Halloween Pumpkin Forest Escape is a brand new point-and-click scary area escape game from 8B Games and Games 2 Mad.
Other games by -
Walkthrough video for Halloween Pumpkin Forest Escape