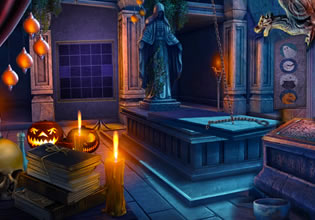 Halloween Knight Escape
This village here has a Halloween knight, it is a real knight with real magical powers. But it is not fighting anything nowadays though unlike the olden days when it has to fight dark creatures just to keep the village safe. But that Halloween evening, it seems it is going to need some help with something.
Martin found the Halloween knight trapped inside the community's cell! Immediately, Martin became alert for he knows the knight is this place's only protector during Halloween and attacking him means somebody might be plotting against the village on the eve of this event. But it could also be an accident and because the Halloween knight have done this community a great service for centuries, he'll help it out. Escape players, Martin needs a little assistance here with this though, care to help him in rescuing the knight?
Halloween Knight Escape is the newest point-and-click rescue escape game from Palani Games.
Other games by -
Walkthrough video for Halloween Knight Escape