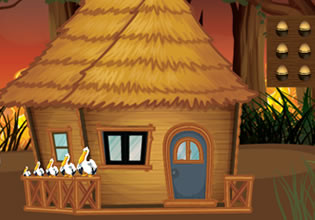 Handsome Tiger Rescue
Rowan's tiger just escaped the kennel again! That naughty boy, he might get hurt outside for this place here even though he is endemic, he grew-up under Rowan's care and he is really not too accustomed to life outdoors now.
Rowan is a little worried this time, for poachers are around and they are getting worst. Something must be done to stop them for this had been happening for years, and actually he even rescued his tiger from one when he was just a kitten, guess Rowan will be rescuing him now wherever it is and he just hopes he is not too deep in trouble. Escape players, come and help Rowan here find his escaped tiger and quickly before he really needs to rescue him from something?
Handsome Tiger Rescue is a brand new point-and-click animal rescue escape game released by Games 2 Escape.
Other games by -
Walkthrough video for Handsome Tiger Rescue