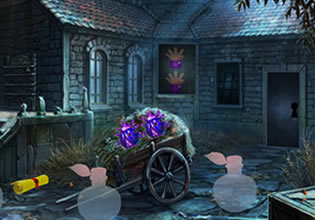 Handsome Knight Man Escape
The handsome knight as the king labels him, Singh works as the head of all the lower-ranking knights in the castle and as he does it, he likes to keep in style that's why he has that label. Despite of that though, he is one fearless knight and when battle comes, he goes berserk and doesn't care about his looks anymore, that's why he is most liked by his fellow men there. That day though he is going to need some help, that's because he got trapped and for his rescuers that is very weird, for this is so unlike him.
Escape players, you were one of the knights who found him and he needs help. Okay then, help is on the way so will you be able to open the thing that is keeping him in so he can get free?
Handsome Knight Man Escape is a brand new point-and-click rescue escape game released by Games 4 King.
Other games by -
Walkthrough video for Handsome Knight Man Escape