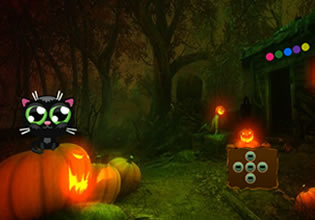 Halloween Darkest Forest Escape
Manny is going to celebrate this Halloween by entering the dark forest and what he will be doing there is quite extreme! For despite of the land being lush and serene, there are dark things in the place which one must avoid. But it seems that the legends are slowly fading to obscurity, for Manny was able to encourage himself to enter there and because nothing really happens, he expects nothing will happen. Well guess he expected wrong unfortunately.
Manny just got lost in the forest and now he is finding it quite difficult to find his way out! This is not good, he needs to find his way back or soon it will be dark and dangerous there. But he is going to need some help first and he can only get it from you escape players. So, will you be able to help?
Halloween Darkest Forest Escape is the newest point-and-click scary forest escape game from Games 2 Rule.
Other games by -
Walkthrough video for Halloween Darkest Forest Escape