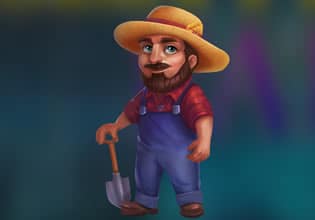 Gentle Farmer Escape
Romeo was roaming around the town that day for he had nothing to do and he had done everything he must do there. This is the first time he had time like this for himself, but little did he know he was going to share some time for someone and this person is important.
There was this farmer who was the most excellent in the place and because of him and his delicate ways in farming, this town is now producing extra in produce for his methods were not only efficient and effective, it gives yields more than the town can consume and it's really helping the place by selling surplus. But that day though this said farmer needs help, for right-now he is trapped in one of his sheds there! Romeo was going to leave this alone at first for he thought the farmer was just fixing something in there, but he heard him call for help and that made a difference. Romeo doesn't know what happened but he knows what to do, and that is to help the farmer there now. Escape players, Romeo is having a hard-time getting that done though, so will you help him so he can rescue the farmer successfully?
Gentle Farmer Escape is a brand new point and click rescue escape game released by Games 4 King.
Other games by -
Walkthrough video for Gentle Farmer Escape