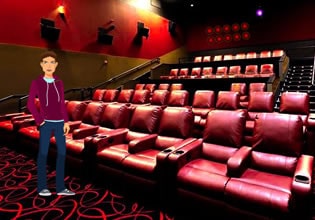 Find My Costly Mobile
The show at the theater is now done and the people have now left the premises, but all except for Kean though as well as his friend for they are currently trying to find something which was absolutely important. Kean lost his phone there and they have now traced his steps just to see if maybe he left it somewhere and it's still there. Kean's friend fears for the worst but he tries to be optimistic, but somehow though he is having a hard-time keeping that up for also the theater there is starting to close, soon they will find themselves trying to escape from there if they don't find that thing soon.
Escape players, you will now be playing as Kean's friend here and that phone which he lost is very important for it has everything that he needs to keep his life in all aspects going, he will be very unlucky if that falls in the wrong hands. Okay now you need to help your friend Kean here, search for it one more time in the halls there and if luck is on his side then you will find it.
Find My Costly Mobile is a brand new point and click item retrieval escape game from Hidden O Games.
Other games by -
Walkthrough video for Find My Costly Mobile