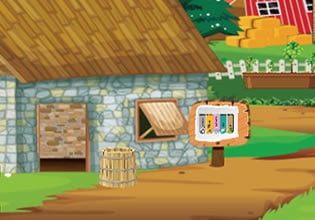 Help Mom Horse To Rescue Baby Horse
Wilton is a farmer and for years he had stuck on that, but he still remembers the days before with his father and he was a cowboy. He learned a lot from him concerning horses and cattle as a young kid, and now he is beginning again for his only female horse here in his farmland gave birth to a healthy foal. Now this is a big sign for him to return, and for a week now thank God the foal seems to be thriving.
Wilton lets the mother horse be in the fields together with its young one, they are absolutely happy here and Wilton was happy with that as well. But as that day passes however, something happened to the foal and he definitely took-off like a rocket when he realized that! Wilton has this new cage he bought so he can turn it into a new chicken coop, but the foal went in it though and it got trapped! Wilton is there now but unfortunately he could not open the cage, it was really locked and he doesn't have the key to it. Okay escape players, Wilton has something which can open it but he needs to find it first. Will you help Wilton here then so he can safely get his foal out?
Help Mom Horse To Rescue Baby Horse is another new point and click animal rescue escape game made by Games 2 Escape.
Other games by -
Walkthrough video for Help Mom Horse To Rescue Baby Horse