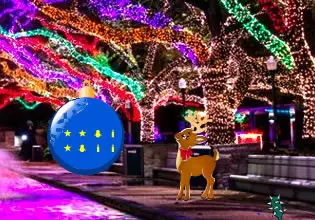 Find My Christmas Gift (Big Escape Games)
The Christmas celebration is now picking-up and everybody is having a good time now. Well except for Manny however, for he was assigned at the park at that same evening and well there is nothing he can do about it now, duty calls and he'll just make amends with his family the day later. As Manny was doing his rounds there in the place in the evening, he found this kid and it seems he was not at all at ease, and so Manny asked him what's going-on.
The kid told Manny that his gift from Santa was secretly hidden in the park here and he could not find it. Manny didn't exactly bite the Santa part but he thought maybe he can help the kid here for well this is actually still part of his job. As Manny sees it, this gift the kid was trying to look for is real, but for him it's not just from Santa though, but there is still a gift that must be found. Okay then, Manny shall help the kid, but with some extra help here then that would be great. Escape players, want to be that extra help here to solve this kid's problem? Keep your eyes open then for it's currently night now and not all parts here are lit up.
Find My Christmas Gift is a brand new point and click item retrieval escape game released by Big Escape Games.
Other games by -
Walkthrough video for Find My Christmas Gift (Big Escape Games)