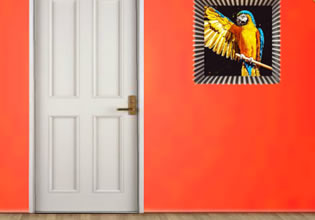 Find Hunter Liam
Andie wanted to see Liam who is a hunter for he was scheduled to go to the forest that day to hunt and he wanted to come. This is not really a surprise for the hunter, for he told Liam about it a few days ago and he agreed, he just hopes he didn't change his mind or anything. As Andie arrives at the house, there was a problem there and Liam needs help!
The hunter is trapped in a room in there and thankfully the front-door was open, but he couldn't open the room door where Liam is. Andie definitely will help here as a good gesture and also for he was already there and he needs him too. Escape players, Andie needs help here as well for getting Liam out of the room was not easy, will you be able to free the hunter?
Find Hunter Liam is the newest point-and-click indoor rescue escape game from 8B Games.
Other games by -
Walkthrough video for Find Hunter Liam