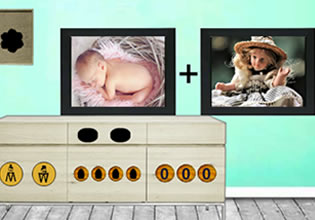 Find Dinosaur Doll
Wilfred is in his friend's house that day and they had been talking for hours and all is cool, well that's until his friend's son became uneasy and started to whimper a little bit. After a few minutes it didn't stop, so his friend finally intervened with what he is whimpering about. That's when he knew what the problem was.
The boy's dinosaur toy which he loves so much is locked inside this room and he couldn't get it to open. So that's his problem, well eventually it became Wilfred's for his friend couldn't also open the door! It must be jammed? Well if it is then Wilfred must help for this is now the household's problem. Escape players, want to help Wilfred here so he can help his friend's son?
Find Dinosaur Doll is another new point-and-click item retrieval indoor escape game made by 8B Games.
Other games by -
Walkthrough video for Find Dinosaur Doll