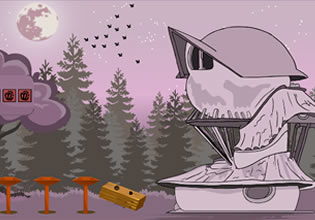 Feed The Three Eyed Fish
In this world here which was very much not Earth, is a weird place. Well, weird for us but this place here is pretty normal for Ta'arok who is a local who lives there. The place is definitely different, the colors are almost uniform, and the houses are weirdly shaped. The animals as well are of course different, one of them was even Ta'arok's pet and it was an aquatic creature.
Ta'arok needs to feed this fish-like creature of his which had three eyes, he needs to find that compartment of his fish-food then to get his feed. Escape players, want to help the alien Ta'arok here on this so he can eventually feed his three-eyed fish?
Feed The Three Eyed Fish is a brand new point-and-click retrieval game from Games 2 Jolly.
Other games by -
Walkthrough video for Feed The Three Eyed Fish