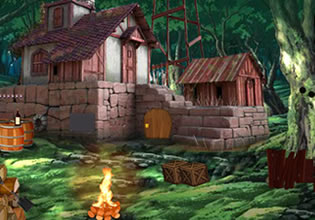 Escape From Forest Cave (Top 10 New Games)
The forest is green and people can see that, but it holds secrets though and anyone who goes there will know that they have gone deep into the place when they see weird and old things just sitting on the forest floor. Among the things too is a cave which is said to contain something precious but the story ends there, for nobody really had the courage nor the skills to really find it. Even Paul who set himself to find the cave that day failed and it was miserable, for he got lost in the forest right after.
Paul couldn't find the cave and he accepted defeat, but somehow he can't control his feelings of taking revenge of the place for he totally wasted time for this and got nothing. He must not for the forest also has that vengeful side and it will make his situation a lot worst. Escape players, will you help Paul here escape from the forest before night comes? Do not take anything with you for you'll never know the forest might take it as some sort of revenge. Be ready for anything in this strange wilderness.
Escape From Forest Cave is the newest point and click wilderness escape game created by Top 10 New Games.