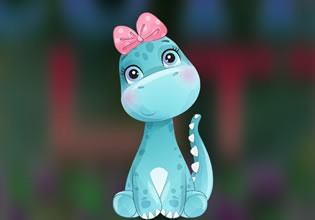 Cute Little Dinosaur Escape
There is a fascinating animal which appeared in the village that day, it is not normal for this animal was a young dinosaur! Dinosaurs are definitely extinct, but what was this? the villagers were really astonished with it, some feared it for when there is a young one there is also a big one, and it might come for its young here. Still that did not stop the people from caging it though for they thought they can study it.
As one of the villagers there who loves animals, Herman was interested with the creature as well, but he knows nothing good will come of this if they don't release the animal. And so for the betterment of the creature as well as the villagers, Herman decided to rescue the creature and stealthily. Escape players, would you like to help Herman here with the rescue so he can do this quickly without being seen?
Cute Little Dinosaur Escape is a brand new point-and-click animal escape game released by Games 4 King.
Other games by -
Walkthrough video for Cute Little Dinosaur Escape