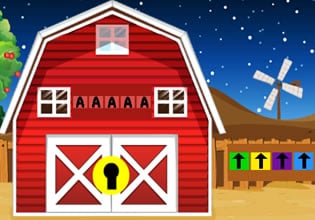 Cute Baby Tortoise Escape
Old McDonald gathered his grand-kids for he has a game for them and the prize will be one of those baby tortoises of his! Everyone was excited with this, for none of them can really afford one and that day their grandpa is giving one for free! But the problem is there is only one that will be given away so only one winner will rise and take the prize home. Maria is really determined to get that tortoise, it will be hers but first she needs to defeat her cousins and siblings so she will win it, through ethical and legal terms of course.
The challenge is all about the baby tortoise, it is locked in a cage and if anyone of them can find that key and free it, the one that will be able to get it out through that will win the tortoise. Seems pretty easy enough, but the farm is huge though and that key could be anywhere in the houses there. It's like finding a needle in a really vast haystack indeed. Escape players, you will now be playing as Maria here and she is determined to take that tortoise home for herself. Will you be filled with determination here as well and see if you can free the tortoise?
Cute Baby Tortoise Escape is another new point and click animal rescue challenge escape game made by Games 2 Jolly.
Other games by -
Walkthrough video for Cute Baby Tortoise Escape