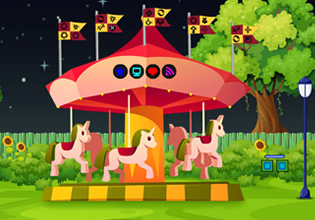 Circus Buffoon Escape
People who visited the circus that day is missing this circus buffoon for they laugh whenever he is around, well actually he is in but when Chris tried to look for him for he is currently in demand, he realized that he was actually gone! Chris was dumbfounded, did he run to somewhere? But it's not like him to do this and just leave his job, he is committed to it and is actually very effective. Chris checked every door and tent in the circus area and because Chris was one of the managers of the place, he has access to everything there. Chris tried to look for him for an entire hour until, he eventually found him.
Chris found his professional inside one of a tent and unfortunately it is the only tent that he couldn't open! He is definitely trap in there for he is struggling to escape, Chris needs to get him out of there first and then get some answers what exactly happened. It's a good thing he didn't run-off or something. Escape players, come help Chris here rescue the circus' buffoon from where he is trapped. Try not to destroy the sturdy tent for there are valuables in it and that's why the structure must be constantly sealed.
Circus Buffoon Escape is a brand new point and click rescue escape game from Games 2 Jolly.
Other games by -
Walkthrough video for Circus Buffoon Escape