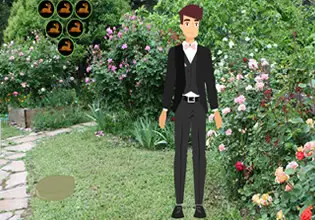 Aesthetic Lovers Escape
There was this couple who decided to rent the entire garden resort as their wedding reception, so they picked the perfect wedding cake for them at the garden's restaurant and pastries as well as decided on what the reception area will look like on their day. As one of the employees of the place who caters with the couple mainly, Dom is currently writing down their orders and everything they wanted on their special day. At one point, Dom left for a bit to go get some samples while he leaves the couple decide while they are in the garden, but when Dom returned however he realized that the groom could not find his soon to be wife!
Dom felt ridiculous when he heard the groom say that his girl is missing! How could that be? For the place is not like a maze or anything, he even thought the couple pulled a prank on him or something, but because they are his clients now he needs to answer this for what if it's real that she's missing? Then there will be more problems then. Escape players, the groom here needs help for he couldn't find his partner anywhere in the garden, wherever she is hopefully she is safe, but the groom is already having a bad feeling about this. Place yourself on the shoes of Dom here then and try to find her around the immediate area.
Aesthetic Lovers Escape is a brand new point and click rescue escape game released by Games 2 Rule.
Other games by -
Walkthrough video for Aesthetic Lovers Escape