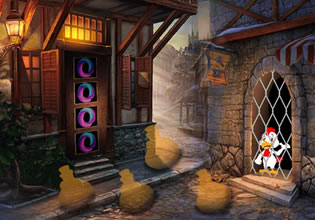 Cheerful Chicken Escape
Pablo is roaming around the village today looking for this one distinct chicken, for it is his. He loves this chicken for it always looks cheerful. Where could this creature have gone to this time? Maybe playing around with the other chickens? As he continued to look for it, he found it and that's when he knew why when he called, this creature would not come.
The chicken was trapped inside this cage and it was trying to get out! But it couldn't unfortunately. So this is where it had been the entire time. Pablo is going to get his chicken out of there then, but he is going to need some help. Escape players, would you like to help Pablo here so he can safely free his chicken?
Cheerful Chicken Escape is a brand new point-and-click animal rescue escape game released by Games 4 King.
Other games by -
Walkthrough video for Cheerful Chicken Escape