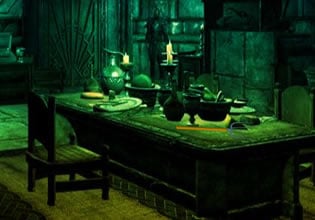 Brighten Candle House Escape
The rooms in the old mansion are now lighting up through the evening. Why is that so? Well that's because the place is haunted and it does what it does every time especially in the eve of Halloween! It's a scary spectacle, yet interesting for nobody really goes there and the candles there just lights up. Through the years the people have confirmed that the lighting-up of the candles there are actually paranormal, for a few persons saw them lit-up without nobody there lighting it! Nobody should go there really, but that day someone was there and as instantly as he entered, he got lost!
Bart was the one who entered and he lives just close by the place. He was told many times never to go there and he witnessed it himself the lighting-up of the house. But that factor though, instead of it shooing him away it just continuously interested him and now because he finally decided to enter the place, he is now in the situation. Escape players, Bart is pretty scared now, he doesn't have any help and that's why his fight and flight responses are on high alert. Will you be able to help him out of there then while there seems to be still a chance?
Brighten Candle House Escape is a brand new point and click scary indoor escape game from Games 2 Rule.
Other games by -
Walkthrough video for Brighten Candle House Escape