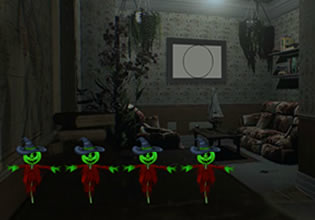 Halloween Horror House Escape (Games 2 Rule)
Your friends are all working in real estate. So they are able to find you the greatest deals and you are able to buy any properties. For this Halloween, you choose from one of your properties for your Halloween party. Instead of working on the location on your own, you hired a team to work on the place. You aren't very familiar with your place so it will add to the mystery and thrill of your party. You arrive earlier than the others. This is to make sure that everything is ready. The place really looks awesome and the decorations are almost alive. Chills are running up your spine as you walk around the place. You're wondering if the team placed some surprises around. You don't want to ruin the pranks so you carefully walk in the middle. You definitely enjoy the place they come up with.
However, you're beginning to feel freaked out by the designs. After checking that everything is set, you decide to wait for them outside. You want to film their reactions upon seeing the decorations. So you hurry to the door to find a good hiding spot outside. Then again, the door doesn't open up for you. Play Halloween Horror House Escape (Games 2 Rule) room escape game by Games 2 Rule.
Other games by -
Walkthrough video for Halloween Horror House Escape (Games 2 Rule)