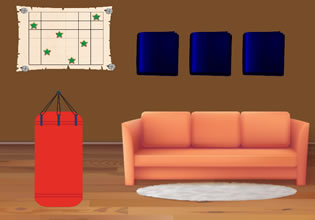 Boxer Kangaroo Rescue
Rowan's kangaroo is the best here, for it can perform tricks and he didn't even train it. It's like this creature is a natural and Rowan absolutely feels lucky that this creature is his friend and pet. That day, his kangaroo is practicing a new trick again and it's all about boxing, that's pretty new, but he is getting the hang of it and Rowan is supervising. But as everything was happening though and under control, it suddenly failed and it ended in the kangaroo getting trapped in a cage!
Well, the real problem was opening it, for Rowan couldn't find the key to that thing anywhere. Wherever that thing is he needs to find it so he can free his extraordinary kangaroo now. Escape players, want to help Rowan here rescue his kangaroo?
Boxer Kangaroo Rescue is another new point-and-click pet rescue escape game made by Games 2 Escape.
Other games by -
Walkthrough video for Boxer Kangaroo Rescue