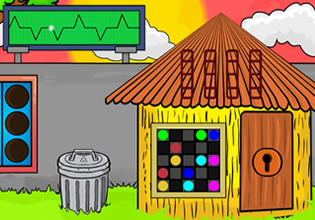 Black Baby Gorilla Escape
Ronald could not find the baby gorilla he is taking care of, normally it would just be around the compound running around but even when Ronald called for him, he wasn't able to come. That is strange, for normally the young primate would immediately meet-up with him when he calls, that's what prompted him to try and find the animal but when he did though, he finally knew what was happening.
The little guy was actually trapped in an enclosure there and it was even in one which has a missing key! So this where he went, he is actually trapped in there and that's why he didn't come. Well, Ronald needs to find the key to this thing so he can free him. Escape players, imagine you are Ronald here, will you be able to find the keys that can unlock the enclosure where the young gorilla is?
Black Baby Gorilla Escape is another new point-and-click animal rescue escape game made by Games 2 Jolly.
Other games by -
Walkthrough video for Black Baby Gorilla Escape