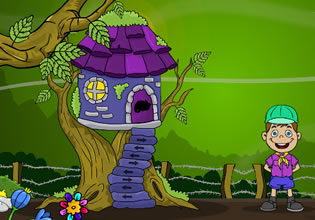 Master Gorilla Rescue
Neville's only master here for strength enhancement is this gorilla! That's kind of strange but this gorilla is not only several times stronger than a human, but it is able to think like one! That's why he is helping his friend Neville here for his strength is far puny than a normal person. Neville is getting some progress actually, and he is going to need that today for master gorilla is going to need a rescue!
The master just got trapped in this cage which was just sitting around in the area! Of course, no gorilla can escape this cage here for it is sturdy, his skills couldn't open it as well and that's why his only hope now is Neville, luckily he found him. Escape players, Neville needs a little help here as well for he is not too adept with rescues. Want to help him then so he can free his master? Help him find things that can open the cage.
Master Gorilla Rescue is the newest point-and-click rescue escape game created by Games 2 Jolly.
Other games by -
Walkthrough video for Master Gorilla Rescue