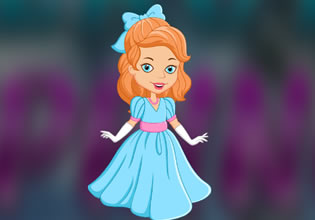 Beautiful Princess Escape
The king has finally allowed his daughter the princess to live in this village here for a few months so she'll learn to govern a small unit until she takes hold of the entire kingdom in the future. Overall the princess is new to this, but she is not at all bad though and she is even starting to make the lives of the villagers there a little better, that in turn is being paid-back by the people through respect of her. That's why that day when a villager there realized she is in trouble, he didn't hesitate to help.
This villager who was Cole just found the princess trapped in the house there which was notorious in trapping people in! She might have not known the house and she entered it to inspect it, now she needs help there and of course Cole will give her a hand. Escape players, Cole is going to do this delicately though, for the house is still active enough to even trap him in. Will you be able to help Cole here then so he can get the rescue done and the princess safe?
Beautiful Princess Escape is another new point-and-click rescue escape game made by Games 4 King.
Other games by -
Walkthrough video for Beautiful Princess Escape