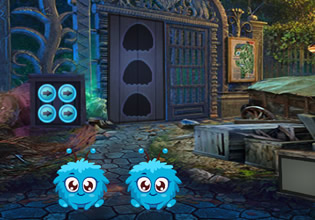 Kingpin Goat Escape
The mountain village is an area the kingpin also governs, the village is actually prosperous amidst the mischief that the kingpin does, he still looks-out for his people. That day, he was the one who is in-need of help now for his goat which was kind of like his sidekick had gone missing! He already dispatched his men to find it but still no such luck. As a villager who has a high respect for the kingpin, Ronald decided to give his services too in helping find the missing goat.
As an experienced tracker, Ronald might have found the goat's tracks and it seems like it is just going around the village in circles, he'll soon find it if he just continues to follow the clues left by the goat. Escape players, there is a huge chance that the kingpin's goat is still in the village, will you help Ronald out in finding that goat as a sort of thanks to the kingpin? Place yourself on the shoes of Ronald then and look around the houses for there are abandoned ones there and you might find the goat trapped in one of those. Try this rescue here by Games 4 King.
Kingpin Goat Escape is a brand new point and click animal rescue escape game released by Games 4 King.