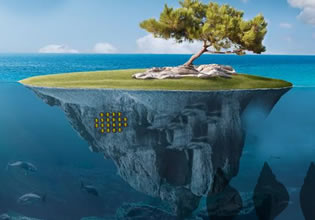 Afloat Tree World Escape
The enchanted tree world, it is a place once belonged in Mordo's dreams, but now that he is there, he seeing it with all of its glory! The place is above the clouds and there are hundreds of floating islands there, each have its own magical tree to make it levitate and its own resident too. Wonder which house would Mordo greet first? And so he moved from island to island not knowing he was directing himself to an eventual danger.
Mordo greeted some of the residents of the place and kept on going, sadly he was so in awe of the place that he didn't even realize he was now lost! This is not good, for he can't really move wherever he needs to as quickly as he would in normal land, for if he does that then he'll fall to his death. Escape players, Mordo needs to return to places where he needs to be, for right now he is definitely not. Want to help him then and carefully too so he won't get himself in some serious danger there?
Afloat Tree World Escape is another new point-and-click fantasy place escape game made by Big Escape Games.
Other games by -
Walkthrough video for Afloat Tree World Escape