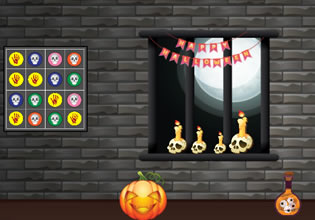 Zombie Room Escape For Halloween Night
There is a real-live zombie in this house here or must we say, a real not-so alive zombie in the said house and at the moment it is being bounded so it won't be able to move or escape! Who in the world would keep a zombie here under wraps and bounded inside a house? Well, only the weird ones probably and especially the humans. But as a Halloween being, Frank needs to get inside the house and free this zombie for this UN-dead being is his friend!
Escape players, Frank is an UN-dead being too so he can't get spotted as he does this rescue, want to help him so he can get this done and get his buddy back? He is in a room there at the moment and waiting.
Zombie Room Escape For Halloween Night is another new point-and-click indoor rescue escape game made by Games 2 Escape.
Other games by -
Walkthrough video for Zombie Room Escape For Halloween Night