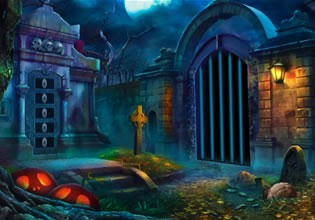 Halloween Soulful Escape
It's Halloween once again and this eerie spirit of the said event now comes to the village. There is a native spirit here which comes to make itself known every Halloween and it looks like the grim reaper. It very much closely resembles like the being but it's not the like though. People don't exactly know what the real intentions of this entity every Halloween, but most people think it is looking around just to find victims, that might not be the case but whatever it is as the people know it, it hasn't harmed anybody. That day though, this creature which they call the soulful might need some help.
Escape players, something happened to this being on the eve of Halloween. Will you have the courage to help it then for at the moment it needs it? Be very careful, for the soulful is poorly understood.
Halloween Soulful Escape is the newest point-and-click spooky rescue escape game created by Games 4 King.
Other games by -
Walkthrough video for Halloween Soulful Escape