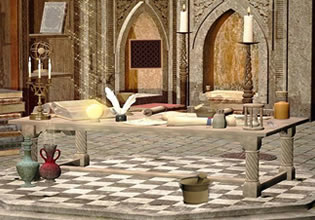 The King's Palace Escape
The king's old palace is a place of luxury, well at least in its grand years for this place is now just part of history after the monarchy of the country was dismantled a century ago. People are very much in awe of the palace when they visit it, and that includes David who absolutely loves the place. All day, he took photos and circled the palace grounds just to capture in his lens this piece of history. But then something happened there and now it's like history is getting the best of him now.
David got lost in the palace and as he tried to find his way out, he really couldn't and he seems to be only getting himself even more lost there! Escape players, David is in an area where there is nobody, that's why he doesn't have any help there at all. Will you be able to help him though so he can get out without damaging anything?
The King's Palace Escape is the newest point-and-click ancient place escape game created by 365 Escape.
Other games by -
Walkthrough video for The King's Palace Escape