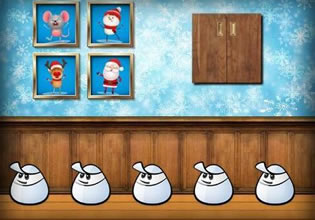 Snowman Room Escape (Amgel Escape)
Christmas finally arrived and that's why the mall is commissioning a lot of its employees for the costume job, one of which was Augustine's neighbor and he was suppose to be a snowman walking around the grounds of the mall, just to make the festivities really felt by the people. As an employee of the mall as well, Augustine decided to just take his friend to the mall so he won't be late on his temporary job which was for the costume, but as he came around the house of his friend however, there was a problem and it looks like both of them are going to be late!
His friend was trapped inside his home and Augustine had a feeling there was something going-on for when he tried the door of his friend's home, it opened pretty easily! Knowing that he was the kind of guy who locks his home frequently, that was pretty new, but the problem must be addressed first though before the situation gets worst and they both get late. Escape players, want to help Augustine here on this rescue attempt for his friend who was going to be a snowman at the mall? Get him out of the room where he is trapped then and quickly.
Snowman Room Escape is a brand new point and click indoor rescue escape game released by Amgel Escape.