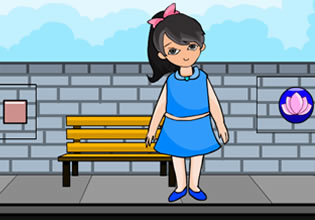 Save The Hungry Girl 4
With your help escape players, the situation with Romy is solved and his friend was happy he gave her an ice cream cone before she left. We will be in a different situation now and this time it's with Jet and his daughter Iris. Iris is a girl with special needs and that's why Jet needs to be with her especially that they are out of the house and enjoying the recreational things in the area where they are. At some point, Iris asked to have some popcorn! That is pretty different for she never really asks anything, this is very much new and of course Jet shall grant it for her.
Escape players, Jet can see no popcorn stand anywhere, but he knows there is one around here somewhere. Will you help him to get to one then so he can give his daughter what she asked?
Save The Hungry Girl 4 is the newest point-and-click item retrieval game created by 8B Games and Games 2 Mad. This game is a continuation of the previous one as its sequel, and is a part of the first game as the start of the series.
Other games by -
Walkthrough video for Save The Hungry Girl 4