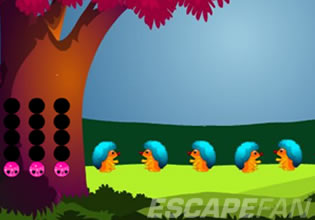 Rescue The Wild Eagle
The land is very vast and a little bit dangerous, that's why when Carlos goes around there to fulfill some tasks, he always watches the animals' movements there and everything so he can get a whiff of what's about to come. At some point as he goes around there, he noticed something in the wind, so he followed it until he reached this very small village which at the moment, doesn't seem to have anybody around.
Carlos knows this area well, but what he can't bring himself to conclude about it though was the absence of people and animals in cages there too which are not suppose to be caged. One of the animals was a beautiful fully-grown eagle. Carlos roamed around but still no answers, okay maybe he'll just free this eagle first and then he'll find answers of what is different here. Escape players, would you like to help Carlos with what he is about to do here?
Rescue The Wild Eagle is the newest point-and-click animal escape game from Games 2 Live.
Other games by -
Walkthrough video for Rescue The Wild Eagle