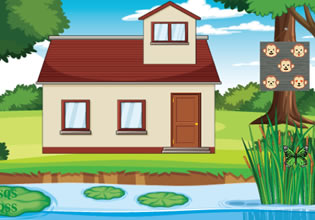 Poor Cheetah Rescue
Richard lives in the wilderness here and even though a few dangerous animals comes his way there occasionally, things are pretty safe. But that day though Richard might think about that, for he found a big cat in his cage and when he saw it, he almost flipped out!
Richard saw a cheetah inside his cage which was suppose to be a trap for game animals. He never thought big cats can reach as far as his area here, but it seems that they are and now he has the burden of freeing this creature without getting hurt. Escape players, Richard needs to calm himself as he release this animal, for even though it looks and acts calm, it could flip to a different temperament once it's free. Will you be able to help him find his key then and eventually release this wild animal?
Poor Cheetah Rescue is a brand new point-and-click animal escape game from Games 2 Escape.
Other games by -
Walkthrough video for Poor Cheetah Rescue