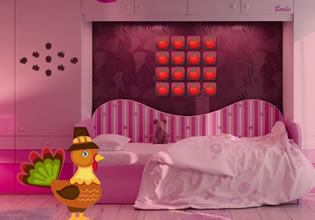 Pinky Room Turkey Escape
Senior turkey have roamed around the place again and he does that every time he has energy. That day he checked this pink-colored house for he was curious why the place was colored as that. But as he explored the rooms of the place though, he got trapped in it for he could not fit in the small passage he came through anymore!
Senior turkey is lucky that there was nobody in the house, or else he might get a whacking from a broomstick. But soon the residents of this place will return and he doesn't plan to be there when they do. Escape players, senior turkey needs help here to escape this house, he didn't get any answers of why the place was pink, but he would rather escape now than find-out. Will you help him escape then?
Pinky Room Turkey Escape is a brand new point-and-click indoor rescue escape game released by Big Escape Games.
Other games by -
Walkthrough video for Pinky Room Turkey Escape