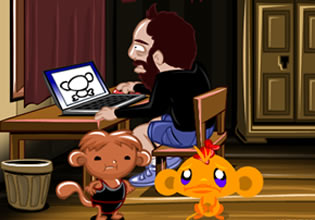 Monkey Go Happy – Stage 657
An amount of stress was coming from this room somewhere on Earth, the operatives have captured it and now they are sending their operative there. For this mission however, the cousin species of the orange monkey operatives which were the normal monkeys have gotten a little help from them, its just a token of their appreciation for doing a good job, now the operative has two with him as he arrives at the location.
The stresses are obviously coming from this guy who was sitting and on his computer, he doesn't look too well and the operative can see why, and that's because his room is infested with a few mini-monkeys. Escape players, the operative might need extra help here despite of him having two already. Would you like to assist in collecting the mini-monkeys here so that everything will return to normal in this room?
Monkey Go Happy – Stage 657 is a brand new point-and-click retrieval adventure game released by Pencil Kids. This game is a continuation of the previous one as its sequel, and is a part of the first game as the start of this series.
Other games by -
Walkthrough video for Monkey Go Happy – Stage 657