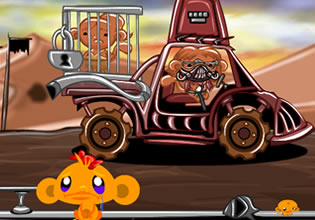 Monkey Go Happy – Stage 639
Back in monkey planet but not in the modern times or maybe in another dimension, there were stress levels coming from the monkey version of mad max! But it was just minor though. Still, the monkey operative must be there for one mini-monkey can still become a hundred in no time.
The monkey operative has now arrived and it's not just the mini-monkeys that's the problem there, and also the operative must be involved in the current events of where he was. Escape players, the operative that had been sent there have a lot of work to do, will you be able to help him so that all of the problem there can be solved?
Monkey Go Happy – Stage 639 is the newest point-and-click retrieval escape game created by Pencil Kids. This game is a continuation of the previous one as its sequel, and is a part of the first game as the start of the series.
Other games by -
Walkthrough video for Monkey Go Happy – Stage 639