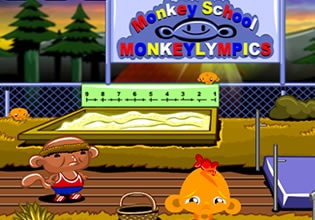 Monkey Go Happy – Stage 555
Somewhere in a planet where monkeys are a dominant species, there is an Olympics for them happening in their place! These monkeys looks very similar with the orange monkey operatives, the differences between the two species were color, intellect, and technological capabilities. That is why that day when some mini monkeys appeared in the venue of the Olympics, they needed the help of the monkey operatives and of course as soon as possible, they arrived after they received the stresses signals from them.
An operative is now in the place and it saw there were indeed mini monkeys there, it is time to get them now before they multiply to significant numbers and destroy the place. Escape players, the operative needs a little bit of your help here in gathering the mini monkeys and quickly too before they wreak more damage in their Olympics. Gather every single one you can find, for if you miss one then that can multiply and the problem will just start all over again.
Monkey Go Happy – Stage 555 is the newest point and click retrieval adventure game created by Pencil Kids. This game is a continuation of the previous one as its sequel, and is a part of the first game as the start of the series.
Other games by -
Walkthrough video for Monkey Go Happy – Stage 555