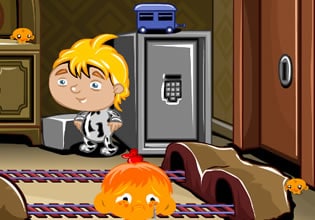 Monkey Go Happy – Stage 553
A signal was up again and just in time when every single operative is busy! The signal was coming from a house in a suburban area and the stress signals are increasing. Okay then, this is starting to become a priority now, that's why the monkey operatives have sent one of theirs to fix the obvious problem which were mini monkeys before this escalates for the worst.
The operative arrives and the place was in a room where two people are, one of them is definitely stressing and there were mini monkeys jumping around already! The operative must work now for there are a lot of crevices in the room and the mini-monkeys can go in those and multiply there. Escape players, a thorough job must be done here now in collecting those hyperactive mini orange monkeys, will you help the operative here and quickly too? For there are currently other jobs blinking at HQ which needs to be desperately looked at.
Monkey Go Happy – Stage 553 is a brand new point and click retrieval adventure game released by Pencil Kids. This game is a continuation of the previous one as its sequel, and is a part of the first game as the start of the series.
Other games by -
Walkthrough video for Monkey Go Happy – Stage 553