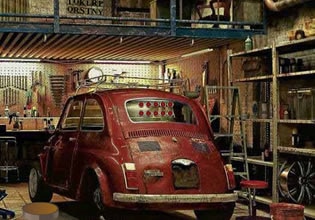 Find My Car From Garage
The car garage and repair shop here in the town is kind of like a treasure trove of vehicle parts now, and just about anything one can associate cars with they have. That day, a woman went to the shop and because they are currently down with manpower, Carl who was one of the mechanics there catered to her for she is saying that she is claiming her car which had been sent there for a minor repair. Carl remembered and he knows this, but the problem was he doesn't know where that car is here in the garage and because the place is vast, he doesn't know where to start looking!
He should have payed attention when his boss was speaking to him about this, now this problem is his to accomplish. Escape players, you are now playing as Carl here and the woman needs her car and she is ready to pay for it. Carl doesn't know where to start looking and so do you, still though will you be able to find it so she can have what she came for?
Find My Car From Garage is a brand new point and click retrieval game released by WoW Escape.
Other games by -
Walkthrough video for Find My Car From Garage